Contact Options:
Contact form at bottom of page,
Chat using bubble on the left, call using bubble on the bottom right, or the chatbot on the bottom right.
Call other numbers on business card below or
Schedule an appointment on this page.
"Technology alone is not enough. It's technology married with the liberal arts, married with the humanities, that yields us the results that make our hearts sing."

– Steve Jobs
John is a Silicon Valley native, and a well-rounded generalist in business and technical communications with web media and IT skills. He specializes in B2B content marketing, technical documentation, websites and hosting, as well as generalized consulting and tech support. He works primarily with companies that do semiconductor process machinery and software development in a DevOps environment. John is owned by a spoiled cat named Polka Dot.
He has always been a writer, an electronics/computer hobbyist, tweaker of code, system admin and multimedia producer.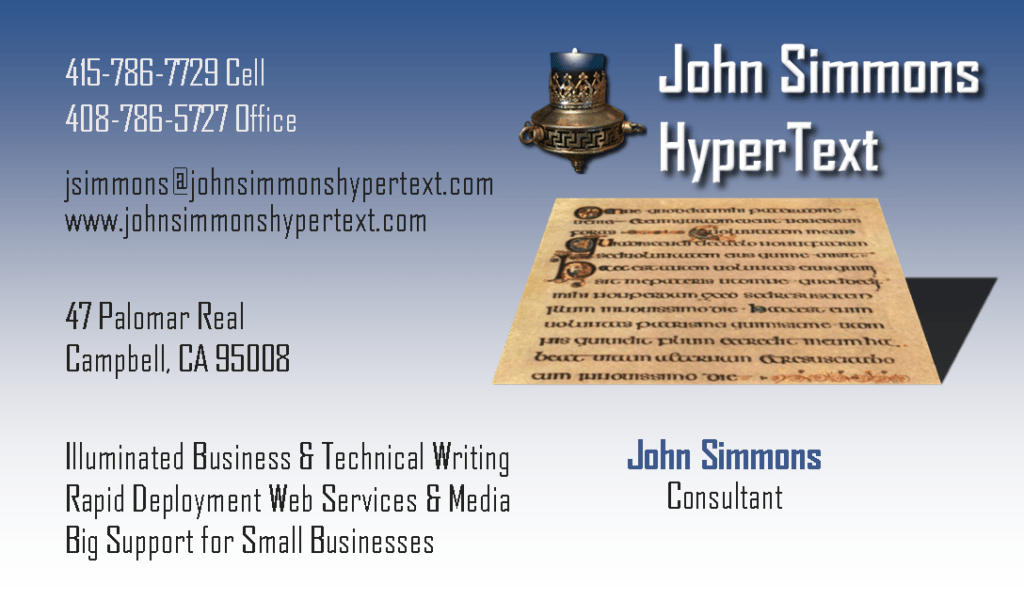 You can see my odd work history that serves as a resume on LinkedIn.
Get our Newsletter!
Subscribe to our newsletter for special offers and information you can use.

Contact