SO Many Contact Options!
Use the widget on the middle left to chat with me if I am online, or leave a message if I am not.
You can chat with my AI bot "Betty" by clicking her photo on the lower right. She might also answer the live chat if I am not immediately available.
Click here to find help or start a support ticket.
Phone on the bottom left to call or leave a voicemail
Contact form below
Contact info on business card below
Appointment Scheduling below
Just order a service: such as web hosting, care plans, technical support time or consulting calls by clicking here.
If you don't get me right away, I will return the contact ASAP.
About John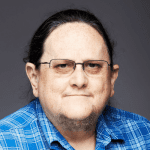 "Technology alone is not enough. It's technology married with the liberal arts, married with the humanities, that yields us the results that make our hearts sing."
– Steve Jobs
John is a Silicon Valley native, and a well-rounded generalist in business and technical communications with web media and IT skills. He specializes in B2B content marketing, technical documentation, websites and hosting, as well as generalized consulting and tech support.
He has always been a writer, an electronics/computer hobbyist, tweaker of code, system admin and multimedia producer. John is owned by a spoiled cat named Polka Dot.
You can see his odd work history that serves as a resume on LinkedIn.
I specialize in Silicon Valley
Start-ups, SaaS, DevOps, IT, Medical IT, SEMI R&D, Manufacturing, and Safety
Other Specialties: Media Creators: Turn your reach up to 11!: Podcasters, Musicians, Authors, Publishers, Photographers, Video Producers, Studios Educators: Teachers, ESL Teachers, Course Creators, Coaches
But aside from my B2B specialties, I have created websites and marketing materials for many other businesses – talk to me about yours!